A cat & kitten rescue organization
---
I am happy to see that you found your way to my website and I sincerely hope that the information contained here will be of benefit to you and your cat(s)!
This page is a plug for tax deductible donations to FixNation which is a non-profit cat & kitten spay/neuter clinic.  Sadly, due to the fact that spay/neuter clinics were shut down for the pandemic, there has been a population explosion of kittens that are suffering on the streets because there are simply not enough homes for them. They are also suffering, emotionally and physically, in cages at shelters with many shelters overflowing with cats and kittens who are scared, bewildered, and depressed….stuck in a prison when their only 'crime' is homelessness.
Spay/neuter efforts are critical to end the tremendous amount of stress that homeless cats and kittens endure.
TLC Adoptions' focus is TNR (trap/neuter/return or re-home) of feral cats which results in fewer kittens born that would otherwise suffer from the illnesses, injuries, and emotional damage that homeless kittens/cats are subjected to.
In addition to TNR work, our group buys food (as funds are available) for the support of managed feral colonies.  Our motto is "If you feed it, fix it!" so, to that end, we spend a lot of time educating the public about "managing" feral colonies which means that all colony members must be spayed/neutered.
This website has become very popular which means that more people are paying closer attention to optimal feline nutrition and other aspects of feline care.  I feel such joy when I hear about a cat's illness improving when sound nutritional principles are implemented or when someone lets me know that their cat started using a litter box after the suggestions on my Litter Box page were put into place.
And the Protein/Fat/Carb/Phosphorus chart – I am so pleased that the tremedous amount of time that I spent calling over 50 companies and compiling thousands of data points has helped so many cat caregivers from all over the world when choosing a canned food for their best buddy.
If you have benefited from the content of this website, including the widely used Protein/Fat/Carb/Phosphorus chart, please consider a tax-deductible donation to FixNation – no matter how small – to help further TLC Adoptions' rescue efforts.
The following pictures are of some of our rescued alumni.  Please rest assured that even though some of the pictures are graphic, the suffering that these poor cats and kittens had endured prior to finding themselves in our care was alleviated.
Sweet and kind Chester was abandoned at the shelter because his owner did "not want to deal with him and his problems anymore."   He was rescued by a TLC Adoptions volunteer and as soon as he was put on a high quality diet, his skin problems cleared up.
Willie was found as an 8 week old kitten with a severely traumatized and infected eye.  He was also emaciated and terribly hungry, but even in his horrific condition, he would purr and head-butt!  TLC Adoptions provided for the necessary surgery to remove his eye,  and the aftercare.  He is now living in a wonderful home where he receives lots of love!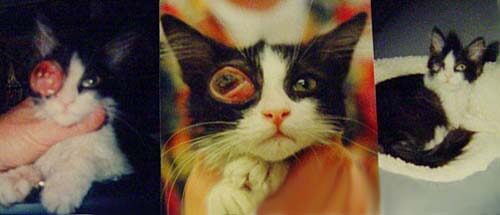 Eddie, Pita and Levi all suffered from a very painful congenital condition called 'eyelid agenesis' meaning that they were born without eyelids.  This caused their fur to constantly rub on their cornea (the highly sensitive covering of the eyeball) leaving them in constant excruciating pain and heading them toward eventual blindness.  Just imagine if you had 100 eyelashes scratching your cornea 24/7 and you will get a feeling for what these cats had to endure….and would have had to live with for the rest of their lives if surgery had not been done to correct it.  If left uncorrected, most of them just keep their eyes closed at all times like Eddie – pre-surgery.
Pita and Levi undergoing surgery by Dr. Michael Smith to correct their eyelid agenesis.  Several difficult, and expensive, surgeries are often needed to correct this condition.  They do not end up with gorgeous eyes after the surgeries, but at least they are out of constant pain.
Luke, Sam and Spike were found stuffed into a dog food bag which was inside of a dumpster.  They weighed only 14 ounces, were covered in their own feces and were also very close to death.  They are all now in loving homes.
Katie was found, along with her deceased brother, in a vat of glue.  She had a badly injured leg which had to be amputated.  Katie did not miss a beat after her surgery and gets around just fine on 3 legs!  She now lives with 2 other cats and 2 dogs in a great home.
Monique was a heartbreaking rescue…she was found in very poor condition nursing 5 kittens.  After she was rescued and fed a high quality diet, she perked up and started gaining weight.  She was a great mother to her kittens but we soon realized that she was still not well.  A blood panel revealed that Monique's kidneys were failing and she was humanely put to sleep.  It was a blessing that she did not have to die hungry, cold and unloved.
Jet and Nicholas….nursing broken legs.
Eve was found lying in a gutter in the middle of a rainstorm. She was emaciated, shivering, loaded with worms and covered in diarrhea. Eve was also severely injured and had a badly fractured pelvis (in about 6 pieces) and a paralyzed rear leg. We were afraid that if she did not regain the use of her leg, it would have to be amputated.  Eve did eventually regain nerve function to the limb but the hip joint was so badly broken that the top part of her femur had to be removed.  However, Eve does not realize that she is missing half of a thigh bone as she runs through the house chasing her housemates in her new home.
Tora, formerly known as Trooper, was rescued along with his 15 siblings and cousins when they were all about 4-5 weeks of age.  Tora was essentially blind at the time of the rescue with one ruptured eye and the other one glued shut from infection. He probably could not find his mom to nurse sufficiently….or she may have pushed him away knowing he was not well. Tora only weighed 8 ounces when his siblings weighed 1 pound.  The night that he was rescued, Tora started convulsing and I went to get the euthanasia solution…but just could not do it.  I really wanted to try to save him but was so overwhelmed with all of the kittens to care for.  But…here he is in his new home…just hanging out on the couch wondering what all the fuss and worry was about when he was just a little guy!
One evening, while on my way to PetSmart to volunteer for TLC Adoptions, I saw what I thought was a black rag laying on the sidewalk.  I was on a very busy street and did not dream that it could be a kitten!  I decide to give it another glance as I was driving by and saw the face of Kai.  He was sprawled out on the sidewalk – inches from the traffic – and he was not moving.   When I got Kai home it was clear that he was severely neurologically impaired as the videos below show.  After a few weeks….and a bit of daily physical therapy with a tassle toy….. he has improved although he does fall down twice at the end of this movie.
Only time will tell if Kai will regain full coordination of his rear limbs – or if he has a congenital abnormality known as cerebellar hypoplasia –  but the good news is that he has been adopted into a safe and loving home.
Dusty was rescued with is three siblings when they were 5 weeks old.  Here are two pictures of Dusty and his little human, Dylan.
Dylan and Dusty….growing up together.
A little foster parent with her foster kitten.
~~~~~~~~~~~~~~~~~~~~~~~~~~~~~~~~~~~~~~~~~~~~~~~~~~~~~~
These rescued cats and kittens represent just a few of our success stories. We receive countless calls each year regarding litters of kittens that need homes and adult cats that have been abandoned by their owners….people who have just moved away and left their cats to fend for themselves with no food or water.  Unfortunately, the daily problems that we face as a rescue group will never end until people become more responsible about spaying and neutering and caring for their pets, in general. Until then…..
I expect to pass through this world but once.  Any good thing therefore that I can do, or any kindness that I can show to any fellow creature, let me do it now.  Let me not defer or neglect it, for I shall not pass this way again.
Etienne de Grellet"
FixNation
7680 Clybourn Ave
Sun Valley, CA 91352
501(c)(3) Tax ID number:  83-0452460
All donations, no matter how small, will be greatly appreciated!
---
Updated September 2019
Partially updated August 2021
Lisa A. Pierson, DVM